2017 Sizzlin' Summer Contest
Starting on Wednesday, May 24, 2017 – August 11, 2017, WRLS will play their "Sizzlin' Summer Sounder", (3-5) five times per day, Monday through Friday. When you hear the sounder, be the fifth caller at 715-634-4871 and you will automatically be qualified to win! We'll also draw a name from our registration boxes. If that person is you, you'll have 9-minutes and 23 seconds to call us back at 715-634-4871 to also get qualified. All qualifiers will be invited to our Grand Prize Party on August 15th at the Steakhouse & Lodge. The party will start at 5:30 with registration at the door until 6:30pm (no guests admitted). There will be many winners the night of our Grand Prize Party!
Registration Locations:  Schmitz's Economart, Riverbrook Bike & Ski, Bush & Gilles Furniture, Hayward Mercantile,  Seeley Vet Clinic, Hayward Chrysler,  Hayward RV & Kawasaki, Camp Namekagon RV Park, Tremblay's Sweet Shop, Dave's Outboard Motors, The Landing Resort, Ernie's Auto Body, Link Stop's A & W Restaurant(Minong), Ramer Small Engine & Power Sports, Lake Time Boats, and Lost Land Lake Lodge.
Additional sponsors: Northwest Sanitary, Mosquito Squad of NW Wisconsin, Diamond Designs by Bodis and Angler's Bar & Grill.
 2017 Sizzlin' Summer Contest Rules & Regulations
ALL QUALIFIERS MUST BE 18 YEARS OR OLDER.
Only one contestant per household may be registered as a qualifier (no exceptions).
The Sizzlin' Summer contest will be played approximately May 24, 2017 and ending August 11, 2017 with the Grand Prize given away on Tuesday, August 15, 2017.
Winner may transfer their interest in their Prize to someone else if permission is obtained in advance from WRLS and the Prize Sponsor. There will be no option for a cash payment in exchange for prizes.
Winners will be responsible for all taxes, as per state and federal tax guidelines.
WRLS will air a special "Sizzlin' Summer Sounder" 3-5 times per day. The fifth caller to reach WRLS at 715-634 4871 after we play the sounder will be qualified to win prizes at our Grand Prize Party.
After we announce the successful fifth caller, the announcer will also draw a name taken from our registration boxes and let this person know that have 9-minutes, 23-seconds to call back 715-634-4871 to also get qualified. The aforementioned name drawing may not happen after every sounder. All registration box names drawn that call back within 9-minutes and 23-seconds will be qualified to win the "Grand Prize".
All qualifiers will be invited to attend our Grand Prize drawing party that will be held on Tuesday, August 15, 2017 at the Steakhouse & Lodge in Hayward, WI. Upon entering the party, qualifiers will be given tickets to be placed in buckets of their choice for prizes they want to win. Only qualifiers will be allowed in to the party. No guests will be allowed.
All prizes awarded are the responsibility of the participating sponsors. WRLS provides the contest winners with a gift certificate, which must be redeemed from the specific sponsor for the specific prize by a date specified on the gift certificate. All prizes are awarded is "as is condition". WRLS neither expresses nor implies any warranty for the product or service awarded as the prize.
BRAIN B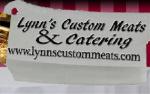 USTER TRIVIA
Weekday Mornings at 10:05 AM!
Answer the trivia question and win a $10 Gift Certificate for Lynn's Custom Meats & Catering. Limit one winner per household every 60 days.