PACK THE PANTRY MEGA-GIVEAWAY – Win Free Groceries for a year! – February 4 – March 29, 2019
Listen for our "Pack The Pantry" sounder, be the 9th caller and you are qualified to win or register at area business and listen for us to call your name to also qualify.
Registration Locations:  Schmitz's Economart, Riverbrook Bike & Ski, Bush & Gilles Furniture, Floor To Ceiling, Hayward Mercantile, Hi Ho Silver, Seeley Vet Clinic, H & R Block in Hayward, Link Ford & RV (Minong) and Spooner Window & Door.
Mega-Giveaway Day – Friday, March 29:  Starting every hour at 8am, we'll giveaway a $500 prize from local businesses and our final giveaway of the day will be for the "Free Groceries for a year from Schmitz's Economart in Spooner.
BRAIN B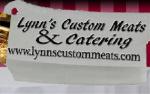 USTER TRIVIA
Weekday Mornings at 10:05 AM!
Answer the trivia question and win a $10 Gift Certificate for Lynn's Custom Meats & Catering. Limit one winner per household every 60 days.