2019 Sizzlin' Summer Contest Rules & Regulations
Starting on Tuesday, May 28, 2019 – August 9, 2019, WRLS will play their "Sizzlin' Summer Sounder", (3-7) five times per day, Monday through Friday. When you hear the sounder, be the fifth caller at 715-634-4871 and you will automatically be qualified to win! Starting on June 3rd, WRLS also draw a name from our registration boxes. If that person is you, you'll have 9-minutes and 23 seconds to call us back at 715-634-4871 to also get qualified. All qualifiers will be invited to our Grand Prize Party on August 13th at the Steakhouse & Lodge in Hayward. Registration will start at 6:00pm at the door until 7:00pm (no stand-ins allowed and no guests admitted). There will be 51 winners the night of our Grand Prize Party!
Registration Locations: Timber Ford of Hayward,  Riverbrook Bike & Ski, Bush & Gilles Furniture, Hayward Mercantile,  Camp Namekagon RV Park, Tremblay's Sweet Shop, Dave's Outboard Motors, The Landing Resort, Ernie's Auto Body, Link Stop's A & W Restaurant(Minong), Henson's Country Foods, Hi Ho Silver, Northstar Landscaping & Garden Center, Props Landing Waterfront Grille, Spooner Ace Hardware, Tactical Escape 101, Seeley Vet Clinic, Spooner Window & Door, Lost Land Lake Lodge, and Shell Lake State Bank.
Additional sponsors: Northwest Sanitary, Mosquito Squad of NW Wisconsin and Angler's Bar & Grill.
BRAIN B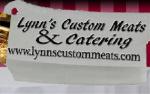 USTER TRIVIA
Weekday Mornings at 10:05 AM!
Answer the trivia question and win a $10 Gift Certificate for Lynn's Custom Meats & Catering. Limit one winner per household every 60 days.